MPS AIR SHIFTER SPORTS BIKE KIT
Product Code: STR 10-01345
Availability: Out Of Stock
MPS Air Shifters
The Original And Still The Best Electric Air Shifter!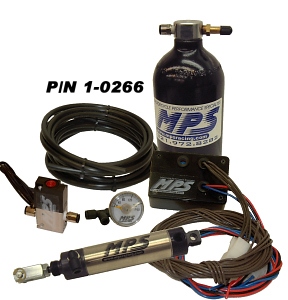 Electronic Engine Kill

2 Coil Kill in Standard Air Shifter Kits
4 Coil Kill in Sport Bike Air Shifter Kits

DOT Air Bottle
Push In Fittings
Electric Air Valve
Air Pressure Gauge
Stainless Shift Cylinder
Our Electric Air Shifter gives you perfect shifts at the push of a button. The Electric Air Shifter includes all components and instructions necessary for a basic installation, however you will need to fabricate your own shifter bracketry. The Electronic Engine Kill features easy kill time adjustment. We invented the Electronic Engine Kill back in 1988 so we can offer our exclusive, no hassle, free repair or replacement lifetime warranty. Be sure to ask about that when buying a brand x copycat shifter. Our shifters come with push in style air fittings. These little jewels are so much nicer to work with than the old fashioned ferrule type that need replaced every time you remove the line. A DOT air bottle is included so you can upgrade to the high pressure system without needing to buy a new bottle. Custom wiring harnesses with a shifter/horn toggle switch are available as an option for some specific bikes to make wiring your MPS shifter a snap.
Related Products
Tags: AIR SHIFTER